The Russell Westbrook Why Not? Foundation strives to lead, impact and inspire the underserved community by building educational and career pathways to bridge some of the socioeconomic gaps within the inner city community. We believe that we are stronger together and are committed to working with community leaders that are on the forefront of meaningful change.
We work with nonprofits committed to creating a lasting impact in the underserved community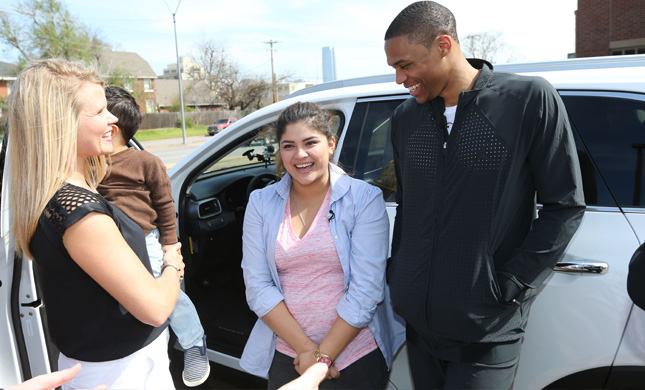 we support organizations that:
Focus on the underserved and underrepresented community
Work to build empowerment in the Black community
Engage in community efforts
Work to reach individuals directly impacted by social issues
Are committed to improving the lives of young people
Amplify voices that are often unheard
Developing the next generation of academic achievers
LA Promise Fund
The Why Not? Foundation is proud to partner with the LA Promise Fund to create the Why Not? Middle and High School, a charter school located in South LA.  Through this partnership, Russell hopes to give students in grades 6-12 a world class education in a school that encourages students to become better athletes, activists and academic achievers.  The Why Not? Foundation will work closely with the LA Promise Fund to further develop some of their educational and athletic offerings and continue to provide resources and opportunities for college bound students.
A Coding Festival from Home
Code.Chella
In partnership with RedFlight Innovation, the Why Not? Foundation provided home STEAM kits to middle school aged girls in the LA County area. These kits teach computer science skills, coding, circuitry and engineering and do not require internet for participation, allowing students with minimal resources an equal opportunity to learn more about science and technology.
Bridging the Digital Divide
Comp-u-Dopt
Founded in 2007, they believe every child deserves equal access to technology and computers needed by students in a virtual learning environment and increasingly digital world. The Why Not? Foundation was able to give over 1,000 laptops to students without devices that needed them during the COVID-19 pandemic, allowing them to continue their education virtually.
Puts our Corps members first
LA Conservation Corps
In 2019, the Why Not? Foundation launched the Westbrook Brownstein Green Tech Program in partnership with the LA Conservation Corps.  This program provided job skills and digital training for over 500 Corpsmembers in Los Angeles.  This program allowed for students to learn more about technology, possible careers in the field and translatable skills.